Student Council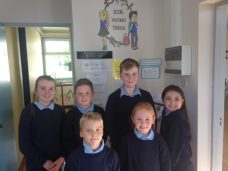 Scoil Naomh Treasa holds that the pupils should play an active, positive role in the life of the school. 
From September 2018, we believe the establishment of a Student Council will help to facilitate their voice.
The role of the Student Council is to: 
Provide an opportunity for pupils to voice their opinions and offer suggestions in relation to many aspects of school life
Discuss issues relevant to the school and encourage and promote initiatives from the pupils
Offer an opportunity for all pupils to voice their opinions on proposed changes and thereby play a very important role in improving our school
Act as a channel for communication within the school, between pupils and between home and school
Encourage pupils and thereby their parents to organise events central to the life of the school 
Provide an opportunity to raise funds for charities or our school equipment fund.
Through our Student Council, we hope to give the pupils a positive role in the organisation of the school and thus ensure they feel they are listened to and respected for their ideas and concerns and these are both valued and valuable. It involves the pupils in many of the decisions, which are made regarding the day-to-day running and management of the school. Discussions in classes and at the Council meetings helps to develop social and learning skills in many areas such as speaking and listening, problem solving and decision-making and the decision-making process.